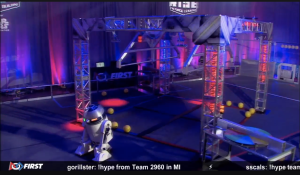 FIRST FRC has officially started their competition season! On Saturday of January 4th, MOE students and mentors arrived at Dupont's building 700 at 10:00am to catch FIRST's live feed. The game this year is Infinite Recharge.
But before the livestream of the game, students, mentors, and alumni viewed a moving tribute to 18-year-old Kendrick Ray Castillo who sacrificed his life to save his fellow students from a school shooter in Colorado. Kendrick loved robotics and was a member of FIRST FRC Team #4418, Impulse. Let us keep him and his family in our thoughts and prayers.
Then, Brandon Stewart gave a brief presentation on the expectations and instructions for Slack to the team. All parents, students, and mentors should be on Slack and check regularly and note their expected attendance. Slack is an essential tool for the team to communicate and share ideas.
Finally, the game launch started at approximately 10:31am and Infinite Recharge RISE went live. Programming mentor Lou Rossi was present in New Hampshire. This year, FIRST partnered with Disney and LucasFilm to bring us a Star Wars themed game all about energy. Star Wars actors John Boyega, Daisy Ridley, and Mark Hamil along with BB8 helped introduce how FIRST teams will provide energy to help FIRST City rise.
Afterwards, we were introduced to Larry Cullen, the new president of FIRST, who showcased a touching memorial to Woodie Flowers, a prominent face in the FIRST community who passed away in October. Woodie was known for coining "gracious professionalism" which is part of the ethos of FIRST and is something all FIRST teams try to emulate.
Next was the Kit of Parts which is part of the resources for teams and includes the Kickoff Kit (a box of parts delivered to teams at the start of the season), FIRST Choice (items available via an online menu in exchange for credits issued to all teams), and the Virtual Kit (products available directly from the supplier either via download or direct order).
At 10:53am, founder of FIRST, Dean Kamen came on the broadcast and hinted that asteroids were hurling at FIRST City, robots and students would be used to protect FIRST City by working together. The joint partnership came from Kamen believing in the link between science fiction , great imagination and inspiration. The energy theme came from Dean's idea that people take advantage of energy and the access of energy determines everyone's standard of living.
At last, at 11:13am, R2D2 appears to reveal the live playing field and the game animation. You can watch the game design video on FIRST's YouTube Channel. https://www.youtube.com/watch?v=gmiYWTmFRVE
Then, the long awaited passcode to the game manual was released and MOE team members went to unlock it to find out more about the game. Students read and discussed the manual over lunch and called up Lou Rossi who was present at the actual field to ask questions. A big thanks to all the parents who graciously provided and served lunch for us!
Everyone then split into groups to discuss and study different elements of the game and then regrouped to present our findings.
Thanks everyone for a successful kickoff! Go MOE!