On Saturday, January 25th, the team had a great time participating in STEMtastic Weekends at the Hagley Museum! We had a demonstration featuring our robots, including CaMOElot. Visitors had the opportunity to get hands-on experience with the robots, see the robots in action, and draw their own robots. We also debuted our updated coloring books, which promote engineering to children in the form of fun activities.
The Red Clay School District Superintendent, Mr. Dorrell Green, took time out of his busy schedule to stop by and visit the team's demonstration.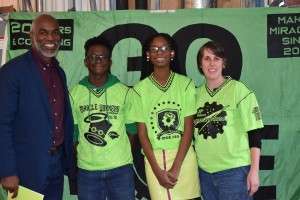 Thank you to Hagley Museum and to everyone who came by to see our demonstration.
Go MOE!