Duel On The Delaware took place on October 19th, 2019. Here are the highlights from the event:
The Duel On The Delaware Snapchat filter was viewed over 1,500 times! We also had an all new competition team, and our team was the first pick of the #3 alliance.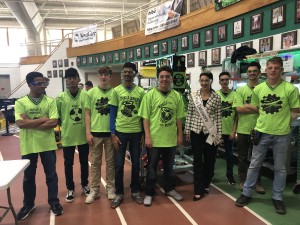 Miss Delaware (Hillary May) was present, announced a match, and presented the book drive awards. We had a successful book drive, participation from 30 teams from five states, and 110+ volunteers! Additionally, we had five teams participate in the mock chairman's award – a record amount! Congratulations to the Duel Master Volunteer Winner – Kevin McKay!
Last, but not least, one highlight from this event was the Woodie Flowers tribute. Rest In Peace, Woodie!
Thank you to everyone who helped make Duel on the Delaware a success!
Go MOE!