On Monday, December 28th, our own Arynn H. traveled to Hatboro-Horsham High School in Horsham, PA to slip some MOE green into the Kickoff Video for Mid-Atlantic Robotics.
"It was a lot of fun to meet the other teams and a cool experience to be in a professional looking studio," Arynn says. "When I got there, I was pretty nervous but Mrs. Carol introduced me to the other teams. I was the only one from a Delaware team there [and the only rookie], so everyone was new to me.
"Thirteen different teams were represented. Once in the booth I read off the teleprompter and at the end told one funny rule for new members to beware. First they had to make sure the shirt and feathers wouldn't be registered as the green screen. Can't wait to see them all at the competition, and thanks to the Hatboro-Horsham school for hosting!"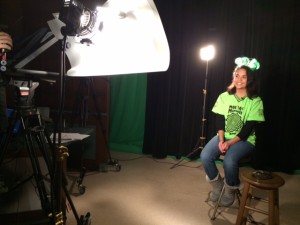 Filming the Kickoff video is becoming a growing tradition — more students are predicted to participate next year.
The video will be shown at all three MAR Kickoff events on January 9.