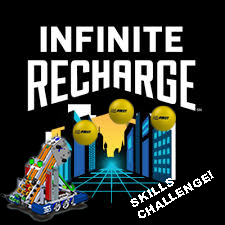 Instead of in-person competitions, teams this year will be participating in Infinite Recharge at Home which consists of a video interview with select team members, and the Skills Competition which consists of five challenges for the team to compete in. Teams will showcase their robots by taking pictures and filming them completing the different challenges and submitting them by the deadline. Teams can also present their robot over the online interview with judges by going over the design process and what the robot is meant to do.
The field will be marked with markers called Nav Points that help locate specific spots for specific challenges. These challenges include the Galactic Search Challenge, the AutoNav Challenge, the Hyperdrive Challenge, the Interstellar Accuracy Challenge, and the Power Port Challenge.
The Galactic Search Challenge is meant to emulate the Autonomous Period of Infinite Recharge where robots must try to gather power cells as quickly as possible on one of the two paths which will be randomly decided. The AutoNav Challenges calls for teams to program their robots to three paths autonomously. These include the Barrel Racing Path, the Slalom Path, and the Bounce Path have different characteristics that present different challenges (curves, sharp turns, loops, making contact with markers, etc.). The goal is to reach the End Zone from the Start Zone as fast as possible. Similarly, the Hyperdrive Challenge has four paths which are the three paths from the AutoNav Challenge plus the Lightspeed Circuit Path only the robot must be manually driven. The Interstellar Accuracy Challenge represents the element of shooting power cells into power ports from Infinite Recharge in which robots must shoot three power cells into one of the ports (bottom: 1 point, outer: 2 points, inner: 3 points) from each of the four zones, within a five-minute time frame, with no more than fifteen power cell shots. Lastly, the Power Port Challenge calls for robots to get as many points from shooting power cells into ports in one minute, whether autonomously or remotely from the allotted Challenge Space.
The MOE Skills Challenge team is currently working in the lab to make adjustments to the MOEllinnium Falcon so that it can be better equipped to tackle the new set of challenges!