2012: CoMOEtion
CoMOEtion is a bright green and black robot designed to collect basketballs from the floor or bridge and score them in hoops using our turreted shooter. We have a low CG and wide-body to easily balance on the co-opertition or alliance bridge at the end of the match. Furthermore, we have triple-balance harpoon assist for eleimination round use.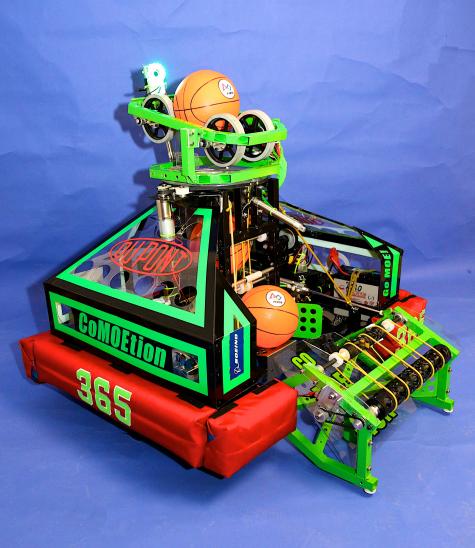 Features
8-wheel, highly maneuverable drive using 4 CIM motors on Supershifters for high speed driving and high torque pushing/climbing
Wide-bot chassis & low center of gravity with horizontal and vertical gyros for precision manuevers
Robust design with 3 ball holding capability and ability to easily traverse the barrier
Two-position height, 270-degree turreted shooter - ability to shoot baskets from multiple chassis orientations and locations in the forecourt. Can apply topspin or backspin depending on the location on the field.
Camera aligned shooter for automated alignment during hybrid and tele-operated modes.
Multi-purpose extendable ball collector/bridge manipulator capable of clearing balls from corners/under the bridge, lowering & raising bridge, and collecting balls rolling off of the bridge.
Multiple autonomous modes for shooting, retrieving balls from both bridges, etc.
How We Can Enhance Your Strategy
Have multiple hybrid modes with delays to shoot, lower bridge, collect balls, or combo actions.
Have stable wide-body to enable two- or three-bot balancing on the bridge.
Have a well-trained scouting team to bring you up-to-the-minute match info
Have great experience in qualification & elimination round strategy
Contact Information
Team Coordinator - John Larock - John.A.Larock@usa.dupont.com
Team Coach - Robert Dudek - Robert.F.Dudek@usa.dupont.com
Team Strategist - Joel Rice
Download
CoMOEtion's spec-sheet