2010: MOEmentum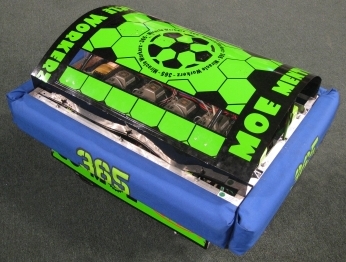 ROBOT DESCRIPTION
MOEmentum is a bright green and black robot designed to possess and kick soccer balls from any field zone into our home zone. MOEmentum can target the goals with its camera and has multiple autonomous programs from each zone.
FEATURES
Ability to kick soccer balls every 2 seconds into home zone from anywhere on the field
Ball possession device to hold and "dribble" balls as robot moves
Sensors to detect when ball is "captured"
Modular kicker with adjustable tensioning system.
Camera to lock in on goal from most areas on the field.
Ability to climb over bumps.
HOW WE CAN ENHANCE YOUR STRATEGY
Have multiple autonomous routines from each robot starting position
2 second cycle time on kicker - multiple kicks very fast
Can move from zone to zone as necessary
Have a well-trained scouting team to bring you up-to-the-minute match info
Have great experience in qualification & elimination round strategy

Download the MOEmentum 2010 Spec Sheet.