Pre-Kickoff Hints
KICKOFF ATTENDANCE
It is important to discuss and agree upon how your team will view the FIRST kickoff event.
You may have representatives traveling to New Hampshire and/or team members participating in a regional kickoff event. This information was due to FIRST in early December.
TIP - It is important to have a number of students at a regional kickoff event, if you can arrange it. Your team members will get a chance to interact with other FIRST fanatics, share in the excitement, see the kickoff broadcast, and interact with components of the playing field for the new game.
TIP - If your team members are attending a Regional Kickoff event, each person will need to complete a FIRST Release Form. This form is available on the KICKOFF link on the FIRST website.
OBTAINING KIT OF PARTS
You should agree upon how your team will obtain your kit of parts. You will probably be picking it up at a Regional Kickoff or having it shipped to your school / location. Typically, the quickest way to get hold of the kit is to pick it up at a Regional Kickoff. By doing this, you will not need to pay extra money to have the kit shipped to your school or work area.
KICKOFF WEBCAST
NASA is webcasting the event for individuals and teams who are not attending any official Regional / New Hampshire kickoffs. The webcast information is available from the KICKOFF link on the FIRST website. Those who can pick up NASA Satellite Television (NASA TV) can also view the webcast without the delay problems of buffering.
TIP - MOE suggests you plan to videotape the webcast if possible. Information flies by quickly. If you have the capability to do so, it will allow you to review important information with your team later.
Keeping Connected with the FIRST Community
WHAT'S GOING ON
Once the kickoff hits, an army of roboteers will be mobilized in the Americas and overseas trying to determine how they can best build a robot to play this game. Lots of ideas and questions will be floating around. It will be advantageous for your team to be connected to this information barrage.
TIP - Assign at least one team member to check the Chief Delphi site daily (or even multiple times per day) to process all the information which will be shared in the FIRST forums. This resource will be invaluable to your team going forward. All team members should know this site very well.
TIP - Sign up multiple team members for the FIRST E-Mails Blasts which are sent. These will include the infamous TEAM UPDATES sent by FIRST to clarify rules and provide additional information. If only one person receives these, they may not be communicated to your team in the most efficient way. The TEAM UPDATES are archived under the DOCUMENTATION section of the FIRST Robotics website.
TIPS - The competition documentation should be available immediately or not long after kickoff. Make sure your team members know where to find it. Ensure someone on your team reviews the rules thoroughly. The time spent doing this will be worth it later.
TEAM ORGANIZATION
It is important to consider how you will be organized as a team when you actually build the robot. Most teams break the larger team into sub-teams with specific tasks and responsibilities. How your team does this depends greatly on the size of your team.
TIP - MOE 365 is very fortunate to have about 25-35 student team members and 15-20 active adults. Before kickoff, we survey the students on their areas of interest and assign sub-team leaders (adults or students) to each of our work teams as soon as possible.
RESOURCE DOWNLOAD - 2004 Subteam Assignments (EXCEL document 32KB)
WORK LOCATION
By now, you should have determined where you will meet to build the robot. The work location should be known by all team members and should have access to the tools and equipment you will use.
TIP - Having a procedure to access the work location may be a good idea.
COMMUNICATION PROCESS
Ensure that you have at least one way to communicate to all team members. Think about general communications and emergency communications (e.g., meeting cancellation due to inclement weather, change in meeting time, etc.).
TIP - MOE 365 uses e-mail as our primary communication method. Ensure that all team members have e-mail access and determine who will update your distribution lists when students change their e-mail addresses (they love to do this).
TIP - If possible, set up a phone hotline where students/team members can call into a pre-recorded message to receive urgent and recent information (e.g., if a meeting is cancelled due to weather). You will need to assign an administrator for this hotline.
MEETING TIME
Your team members should clearly understand when you will meet during the build season.
KICKOFF ATTENDANCE
We recommend making kickoff attendance mandatory for all team members and that there are plans to view the kickoff as a team.
TIP - By issuing and enforcing rules/policies up front, it is easier to determine which students (and adult mentors) are really committed to this program. It is likely that most, if not all, of your team members have never been through this process before and do not truly realize the commitment required.
TIP- MOE 365 requires each student to sign a Student Contract document. Just by requiring students to sign their name to something may cause them to better realize what they are committing to.
RESOURCE DOWNLOAD - 2005 Student Member Contract (WORD document 170KB)
TEAM ACTIVITIES POST-KICKOFF
UNDERSTANDING THE GAME
It is critical for your team members to clearly understand the game prior to starting to build something. Think about how you plan to have every member of your team understand the game. It could be by talking about it as a group, requiring them to read all FIRST documentation, etc.
TIP - There are times when FIRST may modify or provide additional clarification of the original game rules. Realize that whereas only a handful of people designed the game, now literally tens of thousands of people see it and are all asking questions.


TIP - Some teams find that playing the game with humans standing in as robots is the most effective way to learn the rules.


TIP - Ensure all team members know where to find the game rules and review them.
HOW MUCH DO YOU PLAN TO DO ON SATURDAY AFTER THE KICKOFF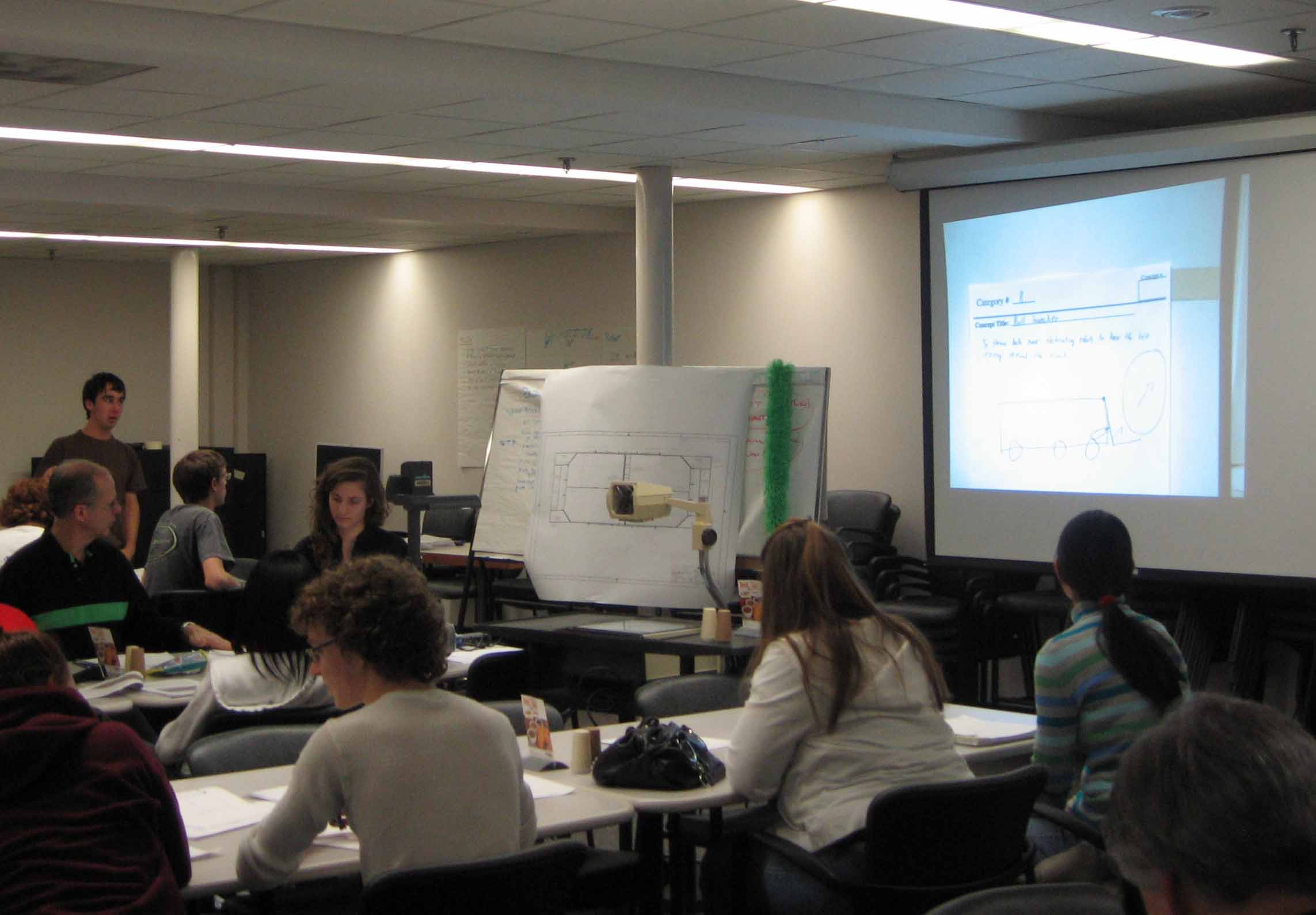 The game will take some time to sink in, as everyone starts processing it internally themselves. Do you plan to ensure an understanding of the game that day? Will you begin brainstorming immediately or wait a day. It is important to know your plan prior to kickoff.
TIP - MOE 365 spends the remainder of our time together after the kickoff broadcast collectively understanding the rules of the game. Once we are fairly confident that most team members have a solid understanding, we begin to brainstorm strategies. We reconvene on Sunday to focus on strategies to play the game.
TIP - While you may want time for all of this to sink in, you will need to work quickly to determine what type of strategy you plan to use.
BRAINSTORMING PROCESS
Getting all your team's ideas out on the table to determine how you will play the game is more important than building something at this stage. Determine what type of process you will use to get the team to agree upon a strategy to play the game, which will lead into what functions your robot needs to have to implement the strategy.
TIP - Getting consensus on a strategy may be one of the toughest tasks you have in the first week of robot build. Try to determine a method you believe will be effective with your team. It is important to understand how much participation your students and adults will have in the process. Whatever you do, select a process and stick with it. Credibility is important.
TIP - MOE 365 has used a modified collaborative brainstorming/decision making process for most of our FIRST experience. It has been effective for the size of our team. The following document describes the process.
RESOURCE DOWNLOAD - MOE 365 Brainstorming Process (WORD document 23KB)
BUILDING OF PLAYING FIELD COMPONENTS
IMPORTANCE
If possible, the best way to focus your robot design is to construct components of the actual playing field. An important question for your team to decide on early is "Are you planning to build a full playing field, a fraction of the playing field, or certain components?" Obviously, this decision depends greatly on space and cost limitations.
TIP - If possible, it is very valuable to at least build key field components (goals, parts of ramps, etc.). The quicker this is accomplished, the better perspective your team members will have on how the game will be played and how easy or difficult certain game tasks will be.
TIP - MOE 365 assigns a group of willing parents to acquire building materials and build parts of the playing field. This provides an opportunity for parents to participate and does not interrupt the flow of brainstorming strategies / robot functions, which is what the students/adult mentors are doing in parallel.
BILL OF MATERIALS
TIP - The FIRST Pre-kickoff Bill of Materials is typically released the week before the kickoff event. Check for it on the FIRST website.
RESOURCE DOWNLOAD - Bill of Materials - Advance Buy 2005 (Adobe Acrobat pdf document 9KB)