MORE
Miracles Of Reading Education
Skip to:
About MORE
Book Drive
Teacher Resources
Downloadable Books

Our MORE program was developed to:
Generate excitement in science, engineering,and technology.
Reach out to the local community by focusing on literacy programs for reading-age youth.
Develop science and engineering materials suitable for younger students and their teacher.
MORE accomplishes this with the following: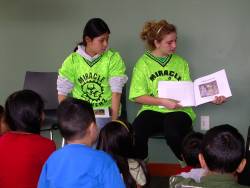 Read aloud programs at libraries and schools.
Distribution of age-appropriate coloring books on robots.
Donations of early reader books about robots.
An annual book drive to support local literacy programs.
Developing early reader books and coloring books about robotics.
Translated these books into 3 languages (Spanish, English, and Chinese).
Challenging kids to get involved with design through our contests
Some Read-Aloud and Book Hand-out Events
Expanding Our Kids' World Daycare
Charter School of Wilmington Science Expo
Learning Center - Newark, Delaware
Woodlawn Library
Claymont Library
National Night Out Against Crime - Newcastle, Delaware
Duel on the Delaware Book Drive
Cool Robot Design Contest
FLL & JFLL Satellite Competition
Hagley Museum Invention Convention
MLK Day at Riverfront Convention Center
Thurgood Marshall Elementary School
Bayard-Taylor Library
Chinese American Community Center
Bear, DE Library
Apponquinimink Library
Pike Creek Christian School
Brandywine Hundred Library
Kirkwood Library
Barnes and Nobles Book Wrap/fundraiser
"Teacher Appreciation Day" at Borders Bookstore

MOE Book Drive
At each Duel on Delaware, the fall competition that MOE co-sponsors, we hold a book drive and collect thousands of pounds of books for Success Can't Wait, Inc. We are proud to hold what is often one of the largest contributor to their yearly collection.

| | |
| --- | --- |
| | Teacher Resources |
- For K-3rd grade children. Can be used in classrooms, after school or summer programs.
K-2 Downloadable Lesson Plans
Lesson Plans
-Using reading & writing to teach young students engineering and technology and connect them to everyday problem solving.
Delaware and Pennsylvania Educational Standards
- Developed and Graciously provided by Rich Kressley, FRC 1712.
Delaware Standards
Pennsylvania Standards

Picture Storybooks (to download)
We Build Robots (pdf 7.0 MB) -- FIRST Robotics Team 365 - Miracle Workerz
Illustrates the work of an engineering and design process through a high school team's six-week challenge to build a robot to solve problems in an international competition.
Also available in:
Spanish (pdf 7.4 MB)
Simple Chinese (pdf 2.6 MB)
Complex Chinese (pdf 7.4 MB)
High Resolution (English)
We Build Robots Too (updated, pdf 8.7 MB) - FIRST Lego League
Shows how middle school students design and build Lego-sized robots to solve real world challenges faced every day by the disabled.
Also available in:
Spanish (pdf 1.2 MB)
Simple Chinese (pdf 0.9 MB)
Complex Chinese (pdf 1.3 MB)
Who can help? Ask an Engineer! (pdf 2.4 MB) - FIRST Robotics Team 365
Miracle Workerz Gizmoe shows how engineers use science, math, and technology to solve problems everyday.
We Can Build (pdf 2.9 MB) - Picture Storybook
Elementary school students learn about under-water life and design a seascape and creatures to demonstrate what they have learned.
We Love Robots (pdf 731 KB) - Padua Vex Team
A girl's high school robotics team shares what they learned about the principles of robotics while building table top robots.
Folded Books
- Small one page books for young people.
Book Instructions (105 KB)
We Build Robots! (251 KB)
Explains in simple terms how engineers often work in teams to design and build complex, creative devices, such as robots to solve everyday problems.
Really Cool Robots (288 KB)
Briefly describes five real robots at work in industry and science today.
Coloring Books (to download)
| | | |
| --- | --- | --- |
| | | Simple Machines with MOE (pdf 400 KB) - Simple machines make work easier! They can be big or small. Often they are found working together in bigger machines. Read about our robot, MOEbius, as he uses simple machines to get a job done quickly and easily. |
| | | Around the World with MOE (pdf 710 KB) - Around the World with MOE Coloring Book. Our robots travel around the world to show us some ancient and modern wonders of engineering. |
Robot Contest Winners

Winners of our 2007 robot coloring contest are combined in this fun to color imaginative book. Download it now (pdf 1.3 MB) and enjoy!
Winners of our 2008 robot coloring contest show just how wonderful kids' own drawings can be! Download it now (pdf 478 KB) and enjoy!

Links
Engineering & Robots: Games and Activities
Robotics Laboratory
Totally excellent site! Games, history, links, info -- for students, teens and adult mentors.
TheTech Museum Of Innovation
Control a robot with your arrow keys. Debate about the ethics of using robots. Learn about the history of robotics.
Surfing the Net With Kids
Generic site with links to robot topics.
Rover Ranch
Robotic engineering, software, and systems with lists, links, and activities from NASA.
How to make your own nanorover!
Robohut
Tour a very cool collection.
Breaking Through
Celebrates creativity in engineering.
Engineering Bookmarks
website in English, Spanish and Chinese!
A fun and informative way to discover what engineers do.
What do engineers do?