Community Outreach by MOE Robotics
| | |
| --- | --- |
| Young and ambitous students interested in robots. | |
Team 365 reaches out to the community not only to involve students in

first

activities like Robotics and Lego League, but also to give people the chance to see what constructive students are doing in these mixed-up times.
First State
first

Lego League (FSFLL) Tournament MOE sponsors Delaware's First State

first

Lego League Tournament for Lego League, Jr. Lego League, and the

first

Vex Challenge. See the FSFLL website. MOE also sponsors numerous Lego League teams:
first

Lego League Assistance
MOE sponsors thirty-one Lego League Teams in the Delaware-Pennsylvania-Maryland tri-state area.

first

Jr. Lego League Assistance
MOE sponsors forty-five Jr. Lego League Teams.
Duel on the Delaware
The Duel on the Delaware is now a tradional MOE-sponsored event. It is not just for team members, but is advertised heavily in the community to spread the word of

first

and let people know of the opportunities available for middle and upper school students.
Partnerships with Non-Profits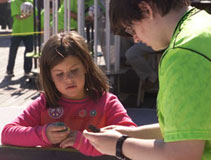 DuPont Riverfest - Wilmington
An exposition and family entertainment at the waterfront for DuPont, in partnership with the Boys & Girls Clubs of Delaware.
Book Drive
An annual Book Drive held at the Duel on the Delaware for "National Make a Difference Day". In partnership with Success Won't Wait, a non-profit literacy group.
Engineering Your Tomorrow
Bring young girls into DuPont sites for learning about careers in engineering. Partnership with the Girl Scouts-Delmarva Council.
Boy Scouts
Engineering Explorer Post
Robotics Summer Camp
MOE veterans have been educating Christiana School District students over the summer.
Partnerships with Educational Institutions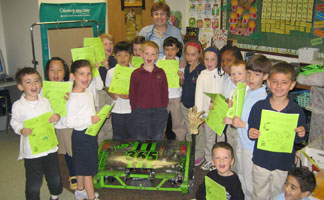 Salem County Community College
St. Mary Magdelene Middle School
University of Delaware
Local High Schools (30+)
Local Middle Schools (30+)
Local Elementary Schools (30+)
High School Visits - Various High Schools
Presentations to interest fellow high school members.
Partnerships with Special Interest and
Technical Groups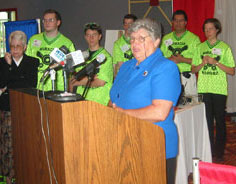 Latin American Community Center
Chinese American Community
Center Society of Women Engineers
Explore Engineering
Day for young girls to learn more about science and technology. In partnership with the Business, Industry, Education (BIE) Alliance of Delaware (5 years).
City of Wilmington
MLK Celebration (2 years).
DE Aerospace Education Foundation
Tech Summit - Riverfront Arts Center (2 years).
A technology presentation to promote high-tech careers to Delaware 9th graders, in conjuction with the Wimington Enterprise Community.
Engineering society events
Including Science Coalition, Society of Women Engineers, and National Society of Professional Engineers.
Partnerships with Organizations
FLOW with MOE
An annual blood drive by the Blood Bank of Delaware for our local community (3 years)
Hagley Museum
Invention Convention (6 years)
NASA Goddard
Duel on the Delaware
Success Won't Wait
Book Drives (3 years)
Other outreach activities by the MOE Team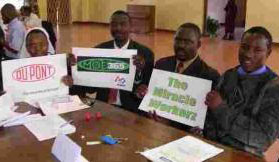 Miracle Of Reading Education (MORE) programs
Reading at local schools, libraries, and Borders Book Stores about science and technology. See the MORE webpage
DuPont Take Our Daughters and Sons to Work Day
A DuPont Program designed to interest young women and men in science and engineering.
5k Run/Walk
MOE created 5k as a event to help

first

teams raise money. In partnership with Marathon Sports. see the 5k Run/Walk webpage
Internal DuPont Functions:

Sigma Xi Noontime Lectures
DuPont Engineering 100th Anniversary
DuPont 200th Anniversary Celebration
Black Achievers - YMCA
DuPont TechCon
Engineers Week
YMCA Day Camp
First Night Wilmington