Hatboro-Horsham 2020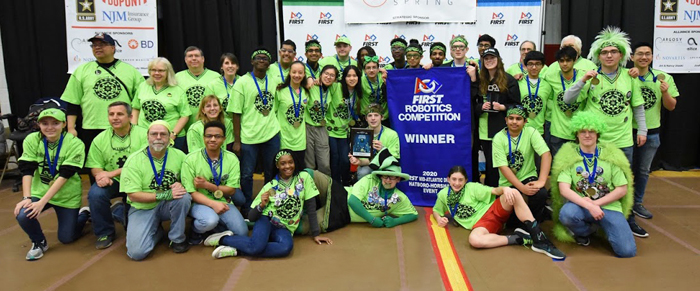 MOE Awards and Recognition at Hatboro-Horsham
MOE was ranked #1 after the Qualifying Rounds

The #1 Alliance Won the Event:
365 MOE -- Alliance leader
5895 Peddie Robotics
341 Miss Daisy

After the first week of events, MOE was ranked #1 in the FIRST Mid-Atlantic District. All subsequent competitions have been postponed due to the Coronavirus.


MOE's David Miller will continue to the District Championship level as the FIRST Dean's List District Champiionship Semi-Finalist chosen at Hatboro-Horsham.

Fortunately, the Dean's List process will continue even with the suspension of the FIRST season due to the Coronavirus.
The MOEllenium Falcon and MOE's Comp Team


Ready to Score Power Cells in the Power Port
and Hanging Evenly on the Generator Switch . . . .


Learn more about our robot on
MOEllenium Falcon's page
| | | |
| --- | --- | --- |
| MOE's Comp Team... | | |
View our Winning Match at Hatboro-Horsham
MOEwards -- Awards Given by MOE to Other Teams



BEST AUTONOMOUS
Team 1218 - Vulcan Robotics

BEST PIT
Team 2729 - Storm Robotics

GRACIOUS PROFESSIONALISM
Team 303 - The T.E.S.T. Team

OUT-OF-THE-BOX THINKING
Team 1403 - Cougar Robotics

MOST SPIRIT
Team 1640 - Sab-BOT-age

UNIQUE DESIGN
Team 3314 - Mechanical Mustangs